Presidential Address
At the beginning of 2017, I want to share with you the good news that Quality Management Auditors becomes one of the 58 Enlisted Professionals in Mainland according to the recent release State Council List on Professional Qualification Licensing and Certification (国家职业资格目录清单)*. It signified the importance of Auditor professional for the healthy development of a society.
Testing and certification services being one of the six pillar industries for propelling Hong Kong towards a knowledge based economy, it is vital that qualification of auditor shall benchmark and align with international standard that we can benefit and contribute in the China's One Belt, One Road Initiative.
In 2017, we are looking forwards to have collaboration with Government Departments to promote quality housing construction. Auditor shall be the key quality component to contribute in the monitoring and enhanced quality control measures on building components.
Recently, HKICA has finalized the application process of CCAA Auditor registration. HKICA certified auditor under the CSQMSA scheme which is operated in accordance to ISO 17024 can apply for registration as CCAA auditor via HKICA through MoU agreement between HKICA and CCAA. A presentation ceremony was held on 2nd December 2016 at Peking to celebrate the granting of first CCAA registration certificate to me.
I would like to thanks the contribution of Board Members and members in the past. HKICA would continue to promote the professional status of auditors; and liaise with overseas equivalent bodies for reciprocal recognition of auditors.
Dr Tommy Lo
President
  *http://www.gov.cn/xinwen/2016-12/19/content_5150291.htm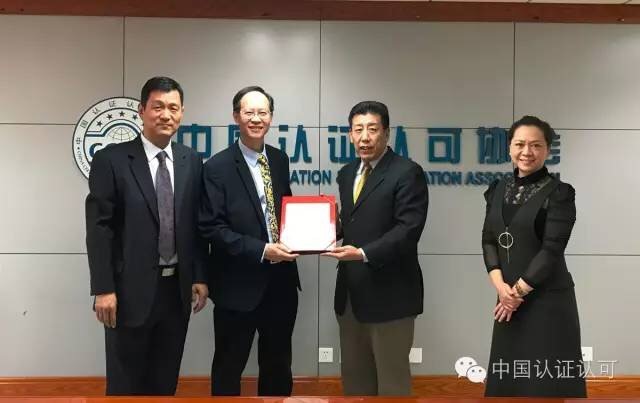 Presentation ceremony - Secretary General of CCAA, Mr Sheng Fei presented the certificate to Dr Tommy Lo (Date: 2 Dec 2016)